Children's Mental Health Matters!
The Children's Mental Health Matters! Campaign brings together non-profits, schools, agencies, and other partners with the goal to raise public awareness of the importance of children's mental health and substance use. The Campaign also helps reduce the stigma of mental health, lets parents know that they are not alone in caring for children with mental health needs, and connects families throughout Maryland with information and services to help their child. This statewide Campaign is co-sponsored by the Mental Health Association of Maryland and the Maryland Coalition of Families. We partner with many organizations that contribute to our efforts across the state: Maryland Association of Non-Public Special Education Facilities, Maryland Department of Disabilities, Maryland Department of Health, Maryland State Department of Education, and National Center for School Mental Health.
Please visit our site to learn more about the Campaign, find resources for families, teens and young adults, providers, and others who work with kids. Join us in helping to spread the word that a child's mental health is just as important as their physical health!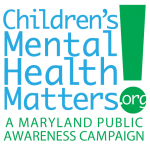 Help MHAMD now
Every donation makes a difference