Last month, six individuals left California on a 5 million-step cross-country marathon called The IceBreaker Run to start a dialogue about the barriers that exist between mental illness and mental health. The effort garnered national attention, including news coverage from CNN. The runners finished last week at the Mental Health America conference in Alexandria, Virginia, but their message has inspired a conversation here in Maryland about the importance of challenging stigma by starting tough dialogues about mental health.
MHAMD challenged Marylanders and organizations to join the movement to eradicate stigma and commit to talking about mental health by running or walking a mile before June 9, the last day of the IceBreaker Run. We received an outpouring of support for the message of "breaking the ice" about mental health, and submissions from participants sharing how they contributed to the movement.
Mid-Shore Mental Health Systems, Inc.'s staff walked a mile to eliminate stigma around mental health, and shared their commitment to living each day stigma-free: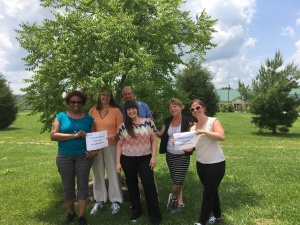 Mid-Shore Mental Health Systems staff joined the one mile walk movement to eradicate stigma related to mental health! Our staff is always committed to educating the community about mental health and addictions by talking openly, offering guidance, and by looking at the person, not the illness. We advocate for consumers everywhere possible, hoping to empower them and help get them where they need to be. We want to break down the stigma associated with mental health by encouraging equality, being conscious of our language, and offering resources. We partner often with our local Mental Health Association and other advocacy organizations to host community events to spread the word of wellness. We pledge to live each day stigma free and hope others will do the same.
In another challenge against stigma, Sheppard Pratt Health System's Dr. Thomas Franklin, medical director of The Retreat at Sheppard Pratt, will be racing the 140.6 miles of the July 24 Ironman Lake Placid triathlon. His goals are to fight stigma, to show people that are suffering that treatment works, and to raise money for the Sheppard Pratt Patient Care Fund so that no one has to go without the treatment they need. Read more about his experience here.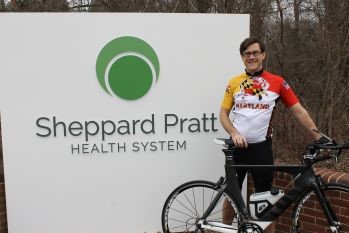 With a strong, collective conversation about how mental health impacts our lives and the lives of our loved ones, Maryland can continue working toward a stigma-free environment for those living with mental health conditions.