Mind Your Mind Mondays
The Mental Health Association of Maryland's Vibrant Aging: Peers Program is pleased to offer "Mind Your Mind Mondays", a weekly opportunity for older Marylanders to learn about brain health and engage with others around mental wellness. Join us for a different topic every week.
Topic: A Practical Look at Maryland's State Plan for Dementia. Host: Kim Burton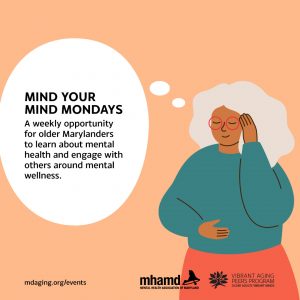 Use the button below to register online or call in via phone: 301-715-8592, then dial meeting ID when prompted: 919 7405 2884#
You only need to register once. After you register, Zoom will send you a link that you can use to join us every week.
Date:
Monday, Nov 21st, 2022
Time:
6:30 pm - 7:30 pm