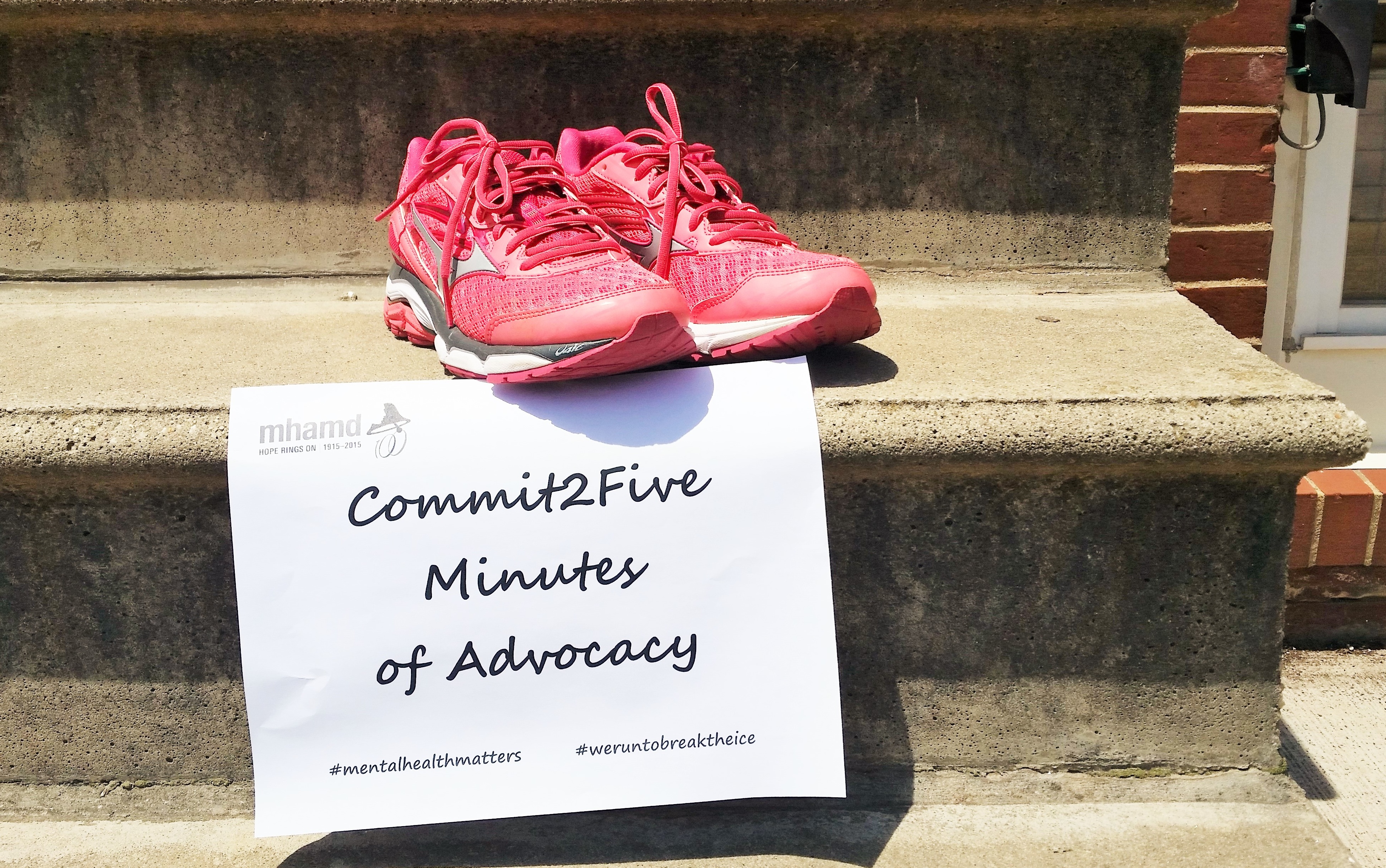 Earlier this week, six runners left California on the IceBreaker Run. These six runners will run a marathon each day as they travel from California to Virginia, stopping along the way to start community conversations about mental health. The six runners have diverse backgrounds and experiences, but each one has had their life touched by mental illness. Their goal is to "break the ice" and encourage others to feel comfortable enough to begin tough conversations about mental health and illness. The run will end on June 9, 2016 at the Mental Health America conference in Alexandria.
We are "breaking the ice" in Maryland in many ways. On May 19, 2016 the Maryland Coalition for Mental Health Awareness will present their fourth annual art event. This year's theme: Walk in My Shoes: Raising Mental Health Awareness through Art asks participants to experience the artwork of individuals who are in recovery from mental illness and addiction. The event is free and open to the public from 1-5 p.m. in the 3rd floor banquet room of the American Visionary Art Museum. Each year the event gives attendees the opportunity to meet the artists and individuals in recovery and witness that treatment works and recovery is possible.
We know that not everyone can attend the art event or participate in a cross-country run, but most of us can walk or run a mile at our own pace on our own schedule. You can join the movement to eradicate stigma and commit to talking about mental health and its impact on you, family, friends or community by running or walking one mile between now and June 9, 2016. While you are running or walking, think about a five-minute, stigma-busting activity that you can commit to or who in your life you can engage in conversations or advocacy related to mental health.
We would like to highlight MHAMD and Citizen Action Team members who participate in the virtual walk/run on our MHAMD Perspectives blog and via social media. Please take a photo of you or your group before, during, or after your run with one of the downloadable signs or a sign you have made yourself and email it to us (using the subject, "Icebreaker") with a short statement about what five-minute activity you have committed to or who you plan to engage in a conversation with about mental health. You can also share your photos on social media using #mentalhealthmatters or #weruntobreaktheice.
Children's Mental Health Matters! Sign
We are so excited to join Mental Health America, the Herron Project, and the IceBreaker team in this landmark conversation starter. Join us!
Update: In an effort to reduce the stigma surrounding mental illness, Sheppard Pratt Health System's Dr. Thomas Franklin, medical director of The Retreat at Sheppard Pratt, wrote an inspiring blog post sharing his battle with depression. He will be racing the 140.6 miles of the Ironman Lake Placid triathlon to fight stigma, to show people that are suffering that treatment works, and to raise money for the Sheppard Pratt Patient Care Fund so that no one has to go without the treatment they need.
For questions, contact:
Adrienne Ellis
Director, Healthcare Reform and Community Engagement
Mental Health Association of Maryland
aellis@mhamd.org
443-901-1550 x206