Happy New Year! This is the first full week of the 2022 legislative session and the Maryland General Assembly is already in full swing. Elected officials will spend the next few months hammering out Maryland's budget and debating over 2,000 legislative proposals covering an array of issues.
MHAMD will play a major role in these deliberations as we work to ensure Marylanders living with mental health and substance use disorders have access to high quality services and supports.
Download MHAMD's 2022 Bill List
---
MHAMD has joined with its partners on the Maryland Behavioral Health Coalition in support of an ambitious agenda for the 2022 session. Building on a successful 2021 campaign in which many of the Coalition's priorities were enacted, we are once again asking legislators to Keep the Door Open for Marylanders with behavioral health needs.In 2022, the Coalition calls on our elected officials to take the following actions:
Pass the Behavioral Health System Modernization Act to expand care coordination models; ensure reliable reimbursement for peers, measurement-based care and crisis services; and increase access to wraparound services for children and youth
Pass legislation establishing a fund to cover costs associated with designating and maintaining 9-8-8 as the universal telephone number for suicide prevention and behavioral health crisis response
Take steps to address the unique behavioral health needs of children and youth
Take steps to address the unique behavioral health needs of older adults
Reduce the harm associated with substance use
Your support is critical to our success. Keep an eye out over the coming weeks and months for action alerts and other ways you can get involved. Lawmakers must contend with many competing priorities, so we need you to speak up and make your voice heard. Together we can make a difference.
---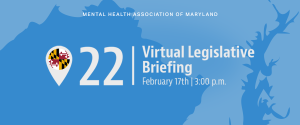 Please join us on February 17 for the MHAMD 2022 Legislative Briefing.
Together we will discuss ways to address the growing demand for quality mental health and substance use services. Attendees will hear directly from elected officials and other decision makers about the public policy issues impacting Marylanders' behavioral health. This event is free to all.
Learn more and register here. See you on February 17!
---
This Week in Annapolis
MHAMD will be watching closely on Wednesday when Governor Hogan introduces his Fiscal Year 2023 budget. Additionally, we will provide testimony this week on several key bills as outlined below. Our current bill list is attached.
HB 190 MHAMD supports this bill expanding Good Samaritan legal protections for people who call for help at the scene of an overdose or other medical emergency. This is Behavioral Health Coalition priority legislation.
SB 94 MHAMD supports this bill establishing a committee to review Maryland suicide deaths and develop strategies to prevent future suicide deaths.
HB 97 MHAMD supports this bill establishing a workgroup to assess and recommend strategies to increase the number of behavioral health students and professionals from underserved populations.
SB 162 MHAMD supports this bill requiring development of a cyber safety guide for public schools to prevent and reduce instances of cyber bullying and harassment.
---
Further information about the material above is available on the Maryland General Assembly website.