What is Engage?
Developed by the Mental Health Association of Maryland, Engage with™ is a highly interactive, comprehensive skills-based training for public and professionals who work with and/or support older adults.
The Engage with™ skills training program helps participants develop the skills and understanding necessary to engage in healthy working/caring relationships with older adults throughout all stages and conditions associated with aging. Topics covered by this skills training program include mental and behavioral health conditions, substance use and medication misuse, neurocognitive disorders, traumatic brain injury (TBI), de-escalation and suicide risk reduction.
The Engage with™ skills training program allows participants to gain a better understanding of the target groups for which they are receiving the training so that they then can apply the skills they are taught more effectively. This training dispels myths, increases awareness and will promote meaningful engagement, but does so in a way that emphasizes a person-center approach through the use of real-life examples and the development of practical skills.
The Engage with™ skills trainings are focused on action. Like other training programs such as CPR, the Engage with™ skills trainings are interactive and are focused on "doing" rather than mastering a topic. A good analogy is a person who successfully completes CPR does not require an understanding of cardiovascular disease to be effective at intervening in an emergency. What they need to recognize are the signs someone is in need of assistance, the skills set to offer that assistance and the awareness to activate the 911 system. A similar approach is possible with the Engage with™ skills training curricula.
There are several training options available on the market that are geared towards those who provide care for older adults. But, none of the available trainings found offer live, skills-based, customizable training that targets a broad range of behavioral health issues that is appropriate for both family caregivers as well as all levels of professional care providers except for Engage with™. This is what differentiates Engage from other programs.
Preservation of Ego
"It is terrible to destroy a person's picture of himself in the interests of truth or some other abstraction."
~Doris Lessing
A Slight Abstraction
www.TheNoNameGallery.com

It is important for participants to recognize the critical role ego plays in all of us and how we will struggle/fight to keep our ego intact. Use of the term "ego" is not intended to be negative, but simply refers to the need for each of us to see ourselves in a certain way. Ignoring ego in the older adult can be quite impactful, just as it is for anybody at any age.  One cannot overestimate the role of ego. It is almost always at the core of any insult, whether intentional or not, and often fuels most conflict.  We ask attendees to think of a situation in their life when someone was trying to tell them something about themselves that was true, but unflattering.  We help them experience that it doesn't feel good and how it was not always well received.  Sometimes, it is not accepted at all. This is no different for the older adult.  For example, inadvertently pointing out an older adult's need for help, may cause resistance to accepting that help because they may want (need) to see themselves as spry and healthy. Failure to recognize and proactively address this need first could result in annoyance, resistance and opposition from the older adult, which then negatively impacts the care provider's ability to help or even perform their task.
Skills Pyramid
The skills pyramid is dynamic. To be successful, there are many skills a worker needs to cultivate. The pyramid structure shows the skills you must master at each level and to also display how these skills build on each other to help you achieve success.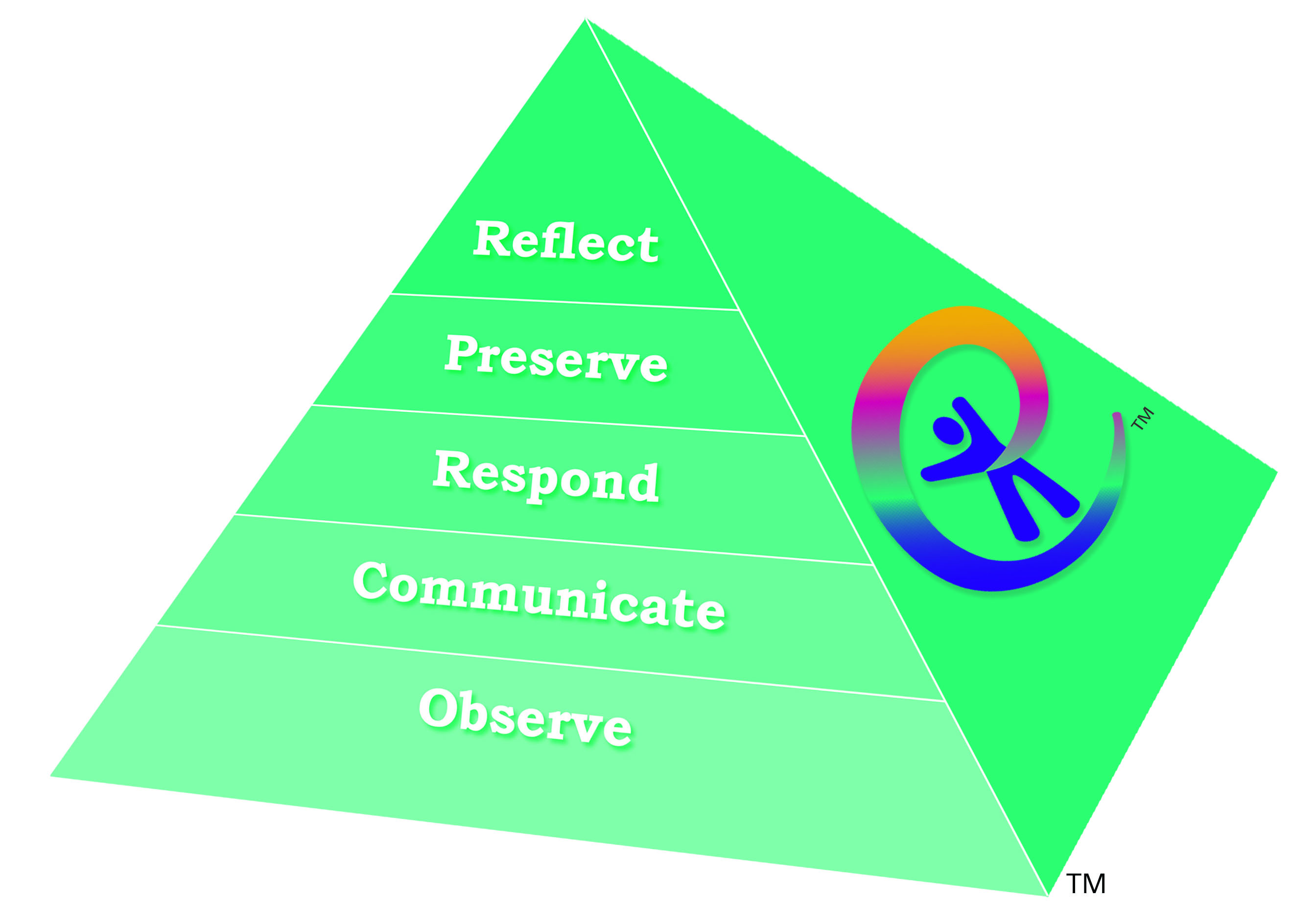 There are nearly 30 skills taught in the full Engage with™ program. Yet, all of those skills fall into one or more of these five levels on the Skills Pyramid.
Observe is at the base of the Engage with Skills Pyramid because it is the foundation of everything we do. We are continuously observing behavior, responses, facial expressions and body language, but do not always take note of our observations.  We emphasize that attendees must be observant before they can communicate with purpose.
If we are to Communicate purposefully, we must first be aware of the individual components associated with communication.  These include active listening, non-verbal communication and verbal expression.  When we are able to be consciously aware of these individual components and can seamlessly integrate this awareness into everyday interactions, we are purposefully communicating.
Only after one has keenly observed and can communicate with purpose can they Respond appropriately.  Appropriate responses rely upon many things, but central to any thoughtful response is an awareness of both the situation and the individual.  What is unique to them, their circumstances and their history that makes it personal and meaningful for them?
In addition to our focus on skill training, what differentiates Engage with  skills training from other trainings is that we teach attendees the skills to respond and interact with the specific intent to Preserve ego whenever possible.  In fact, preservation of ego is at the core of the Engage with skills training philosophy.  We have learned that perceived insult, disrespect, disregard and/or a need to protect one's own image of themselves is at the heart of most conflicts and underlies resistance to accept care for all individuals, not just older adults.
At the tip of the pyramid is our final principle; that we must Reflect. We teach that attendees must consider: a) what we are doing with the older adult and what we are doing for ourselves; b) how we are being received and what have we done to impact that reception, and c) what type of partner are we being and what type of partner do we want to be.  This final step of ongoing reflection is critical if we are to be effective in our role to maximize the potential of the older adult as well as to care for ourselves to ensure we are able to maintain this vital role over time.
We are pleased to announce that the Engage with™ skills training program is being offered across Maryland and the United States. Please send an email or call 443-901-1550 ext. 216 to learn more.