Mind Your Mind Mondays
Stress? Uncertainty? Grief? Anger? We understand.
While these are perfectly normal reactions to a pandemic, distressing thoughts and emotions can cause problems with our health, relationships, moods and behaviors. These days we really need to be mindful of our minds, understand the brain-behavior relationship and take steps to protect our mental and emotional well-being. Our goal should be to thrive, not just survive, during this pandemic. It is something we can do together.
The Mental Health Association of Maryland's Vibrant Aging: Peers Program is pleased to offer "Mind Your Mind Mondays", a weekly opportunity for older Marylanders to learn about mental health and engage with others around mental wellness. Afterwards, we keep the zoom line open until 8:00pm for anyone who would like to continue visiting.
You only need to register once. After you register, Zoom will send you a link that you can use to join us every week.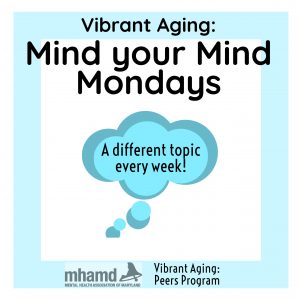 Use the button below to register online or call in via phone: 301-715-8592, then dial meeting ID when prompted: 919 7405 2884#
Date:
Monday, Feb 1st, 2021
Time:
6:30 pm - 7:30 pm