Healthy Aging and Memory Loss Mental Health Forum
Join NAMI, MHAMD, and Johns Hopkins Alzheimer's Disease Research Center for an informational and interactive mental health forum about memory loss and dementia! This conversation is open to anyone interested in learning more about how they can reduce their risk for dementia, caring for someone living with dementia, or generally curious about the topic. The presentation will be followed by a Q&A and breakout sessions where participants can connect with one another and discuss what they learned.
Topics include:
Memory Loss and Dementia
How Dementia is Diagnosed
Risk Factors for Dementia
Ways to Lower Risk for Memory Loss and Dementia
Presenter: Ashley Scott, MHA and Research Coordinator from Johns Hopkins Alzheimer's Disease Research Center.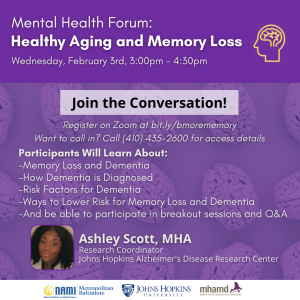 Use the button below to register online or call in via phone: 301-715-8592,
then dial meeting ID when prompted: 875 3815 4015# and enter passcode: 535780
Date:
Wednesday, Feb 3rd, 2021
Time:
3:00 pm - 4:30 pm